Who is this Girl?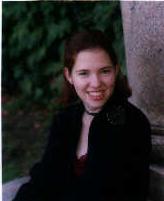 Name: Nicole Janice Wallace
Occupation: Student
Assistant Director of the EuroClub Program at UCL. (This program is part of Britain's Widening Participation Scheme to encourage students to attend university. Once a month we travel to different secondary schools in London to present a different European country with focus on its language and culture. Last year I presented Iceland and Sweden. This year I am still presenting Iceland along with my administrative duties.)
Education: BA English and Medieval Studies, Smith College (May 2002)
MA Scandinavian Studies, University College London (Sept. 2003)
M.Phil/PhD. Scandinavian Studies University Colege London (in progress)
Awards and Honors Dean's List 2001, Dean's List 2002, Smith Alumnae Scholarship, Catherine Wilder Scholarship, Independent Summer Study Scholarship, alternate candidate for a Fulbright Grant to Iceland 2002, Recipient of the Anglo-Swedish grant for research 2003.
Other Academic Accomplishments: I received my BA in 3 years! Also did a special study during my BA turning out a 57 page thesis: Medieval Iceland: The Rise and Fall of the Commonwealth AD 930-1264 Spring 2001; Master's Thesis/Project: A Runic Workbook for Beginners. I also participated in the University of Minnesota's Summer Icelandic Program and the Sigurður Nordal Institute Program (Summer 2001).
Academic Interests:Icelandic Sagas, Runology, Medieval History, Medieval Manuscripts
Other Interests: Music: Guitar, Flute, Piano, Violin; Horseback Riding; Ballet
Foreign Languages: French (6+ years formal study); German (3 semesters); Latin (one year); Old English (one semester); Old Norse (one year to date); Modern Icelandic (1 1/2 years); Danish (one year - reading only)
Leadership Abilities: House President of the French House, Smith College Fall 2000; House Coordinator of the French House, Smith College 2001-2002
Aspirations To become a teacher and inspire students to learn more about foreign languages and cultures.